How to: Applying False Eyelashes
4 November 2010
No Comment
They say that the eyes are the windows to the soul. If this is the case, then your lashes are the window frames. They make your eyes more beautiful. Long and well defined eyelashes make eyes look bigger, fuller and inviting. Unfortunately, not everybody are blessed with naturally long eyelashes.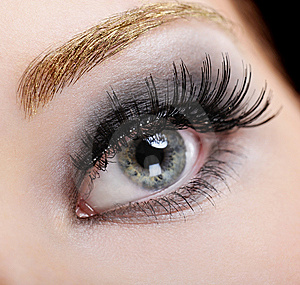 Good thing that in these modern times, almost everything is possible. Women have come to great lengths when it comes to achieving a beautiful image. Beauty experts have invented false eyelashes. These "falsies" come in every different styles, colors and sizes. When applied correctly, false eyelashes can do great wonders to make your eyes more beautiful.
Here are the steps on how to apply false eyelashes:
Step 1: Trim the false eyelashes. Make sure that the lashes fit your eyes. Trim one side of the lashes if it is wider than your eye.
Step 2: Put eyelash glue in a separate container (you can use the bask of your hand) and run the eyelash along the glue.
Step 3: Using tweezers, pick up the lashes and bring it as close as possible to your natural lash line.
Step 4: Apply pressure on the lashes so that it sticks to your lids and hold until the glue dries. It is good that you press the lashes from end to end.
Step 5: To bond the false lashes with your natural eyelashes, apply mascara while pressing your finger behind the fake eyelashes. You can also use an eyelash curler before applying mascara.
Step 6: Using eyeliner, fill any gaps between the false eyelashes and your natural lash line.
Applying false eyelashes is easy and simple as long as you follow the above steps. Have fun and be more beautiful!