Balmain vs Your Sanity
Some things are so out of whack that you're only inclined to believe them instead. Like this Balmain tshirt courtesy of Monsieur Decarnin.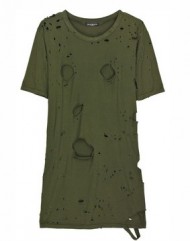 It's cotton. It's ripped. It's a t-shirt and It's $1,625 – one thousand, six hundred and twenty-five dollars – A cotton t-shirt with holes.
Unless this shirt's inside is actually coated in gold leaf, whoever buys this one should book a ticket for the choo choo train.